Kingian Nonviolence & Conflict Transformation
w. Samuel Sarpiya | June 3rd - 7th | R500pp | Ywam Muizenberg
Join us for a week with Dr. Samuel Sarpiya ('Jane Adams Peace Award' winning Co-founder of the Center for Nonviolence & Conflict Transformation - USA) as we enter into Dr. Martin Luther King's philosophy and practice of nonviolent direct action.
- GOALS OF THE WEEK -
To recognize the universal character of Dr. King's contribution to the cause of nonviolence… To become acquainted with the major events of Dr. King's campaigns during the American Freedom Movement, the issues they dealt with and to contextualist King's witness into the South African landscape… To examine Dr. King's philosophy showing how nonviolence strengthens a small group's capacity to overcome the conditions that violate its humanity.
JUNE 3rd - 7th / R500pp
- SESSIONS -
MONDAY MAY 20TH
10:00am - 1:00pm (*optional 8:30 worship gathering w Ywam Muizenberg)
TUESDAY MAY 21ST
9:00am - 1:00pm
Special Evening Skype Session w. David Jehnsen (American Freedom Movement Story Talk)
7:00pm - 9:00pm
WEDNESDAY MAY 22ND
10:00am - 1:00pm
THURSDAY MAY 23RD
10am - 1:00pm (*optional 9:00am worship gathering w The LTN School)
FRIDAY MAY 24TH
10:00am - 1:00pm
** Lunch available every day at Ywam Muizenberg for participants immediately after sessions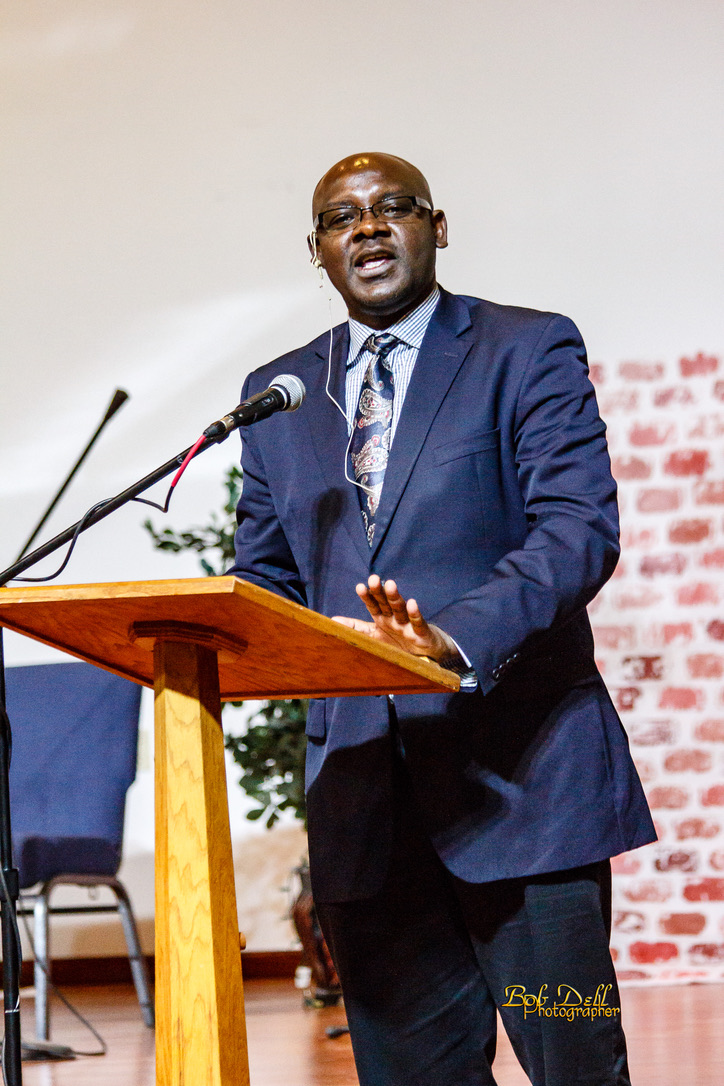 Dr. Samuel Sarpiya has over 20-years' experience as a businessman, educator, social worker, community developer, and Christian leader, serving in senior leader positions within large intergovernmental, non-governmental, and charitable organizations.
Born in Jos, Nigeria, Samuel moved to South Africa in 2000, where he worked several years with the global mission organization Youth With A Mission (YWAM). In 2006, Samuel moved to the United States to again work for YWAM as a leader in information technology at the University of the Nations in Kona, Hawaii, but also served as a delegate to the United Nations 46th General Assembly from 2006-2008 and represented YWAM on the Economic and Social Council (ECOSOC) and the U.N. Council Forum on Indigenous Issues (PFII).
In 2009, Samuel moved to Rockford, Illinois to pastor a church. In 2012 he co-founded the Center for Nonviolence and Conflict Transformation, which educates and trains organizations including police departments and schools in nonviolent conflict resolution and reconciliation.
Samuel has also served the last two (2) years as a Moderator, the most senior officer on the Leadership team of the 122,000-member Church of the Brethren Denomination. As 2017-2018 Moderator of the denomination, Samuel is its visionary leader and serves on both its Mission and Ministry boards. Samuel also presides over the denomination's Standing Committee and Annual Conference, advises its Executive Committee, and represents the denomination at strategic inter-church conferences.
Samuel holds an earned doctorate degree in Semiotics and Future Studies from George Fox University, a Master of Divinity in Conflict Transformation from Bethany Theological Seminary, and an undergraduate in social work, University of Jos, Nigeria. He also holds the University of Rhode Island's Level 1 and 2 Kingian Nonviolence Trainer Certification.
YWAM Muizenberg
19 Alexander Rd, Muizenberg, WC